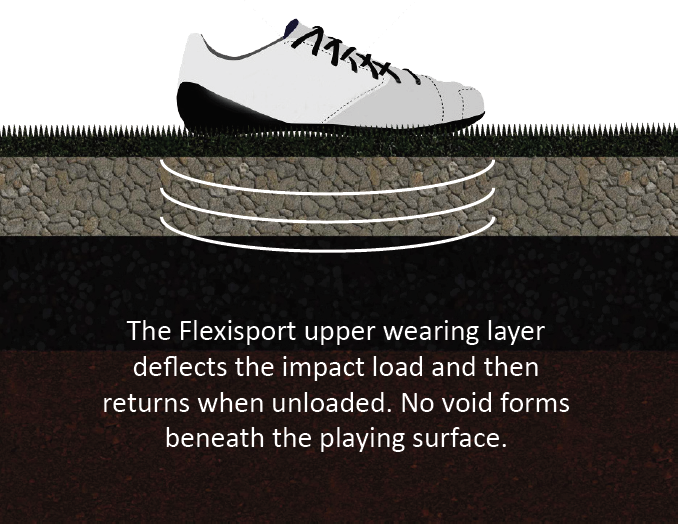 FLEXISPORT
A patented system providing an engineered pitch base with intrinsic elastic properties

A more economical alternative to conventional stone, macadam and shockpad pitch bases

Highly porous

Eco-friendly with materials sourced from non biodegradeable waste products reducing landfill and damaging ecostytems

Resistant to movement and cracking following repeat dynamic loading

Flexiroc system can be layed directly on to the sub-soil

Meets EN15330 requirements for football when directly overlaid with a 3G sports surface
Flexisport® is a highly highly innovative sub-surface protection system. A two-tier, stable, suspended, free draining flexible foundation specifically designed to be used in tandem with any 3G sports surface to achieve new standards of shock absorbency, with no adverse effects on performance, players or equipment.
Flexisport® Sports Pitch Base has been specifically designed for the sports market to give an engineered base with intrinsic area elastic dynamic characteristics. It is particularly relevant for football and rugby pitch installations.
The Flexisport system meets all testing criteria for all sports played on 3G systems without the need for a shockpad or engineered tarmac layer.
Immediate improvement
Flexisport can be used beneath any sport surface material to provide dramatic improvements in shock absorbency. Shock is absorbed consistently, and dissipated discretely throughout the entire structure. And it will not settle,compress, deflate or break up.
Indoor suspension – outdoors
Flexisport is the equivalent of the finest suspended flooring (more properly called a sprung floor) that is designed to provide optimum safety for the athlete. It gives maximum absorption without being too soft, which would be tiring for the athlete. It also gives maximum performance by providing minimal interference with the ball.
Superior shock absorbency
Flexisport is the most effective shock-absorbent structure created. Shock absorbency is absolutely essential to minimise impact injuries and to provide consistent support to the body during all sporting activities.